Trash Invasion (Garbage Recycling)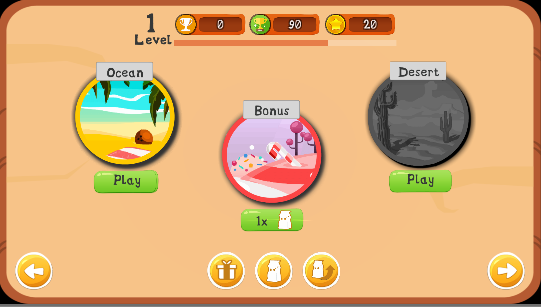 Well, the title says it all... I went back and based on the feedback from different people, I simplified many parts:

The levels no longer have support for multiple bins and multi-recycling. Instead, it is much simplified, starting with a single trash bin, then two, etc. The gameplay follows the mechanic to tap on trashes to make them disappear and recycle only the ones for the current bin.
The UI has less elements in the menus and game HUD.
You have only two monster cards per game session.
All levels play similar, while the difficulty level raises.
The monsters feed and achievements mechanics have been removed.
Removed the cakes collection to unlock the Bonus Level. You need to unlock monsters instead.
Changed the shop items, mostly everything that was in the shop is unlocked and available in the game now. There will be two extra items, which I will add later in the shop, but those will be optional and more of a fun boost for the final experience.
Tons of bug fixes and optimizations along the way (major bugs - jumping of trashes to a neighbor bin, waiting time before trash drops).
What is next for the game is integrating my own music. There are planned separate themes for each level and in-between menu scenes. Also there are planned two extra levels, which I will be working on as well ("Sunset Beach Level" and "Underwater"). I am also planning to add more monsters and trash items, but this will be an ongoing process through the whole development.

Get Trash Invasion (Garbage Recycling)